#CUTOUTCUTLERY
Uber Eats, Postmates, Grubhub and now DoorDash join us to #CutOutCutlery!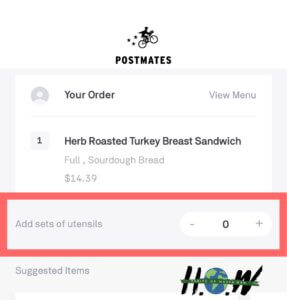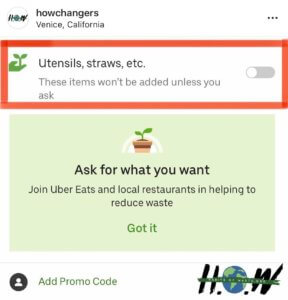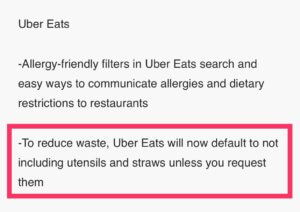 We convinced all four major food delivery applications, including Uber Eats, Postmates, Grubhub and most recently, DoorDash to change their default setting so that no one receives plastic cutlery unless they opt-in to request it. We advised these companies to formulate the language and the process in which customers experience a simple opt-in process for plastic cutlery. Our work is not done until all restaurants and food delivery companies comply. Let's make the opt-in setting /  #CutOutCutlery be the new "normal". Help us today by sending an email with just 1 click!
Join HoW's campaign to #CutOutCutlery and change habits of single-use plastic cutlery to reduce the 40,000,000,000 plastic utensils that are thrown away each year. Be a 'HoW Changer' by using reusable cutlery and refusing plastic!
Learn more about #CutOutCutlery with this special presentation
Join us by emailing more large restaurants chains to join us!  Our request is that they install an "Opt-in" feature for plastic cutlery and accessories to eliminate unnecessary waste. Currently, companies like Chipotle automatically provide plastic cutlery for customers ordering food despite users unsuccessful attempts to opt-out.
With just 1 click you can send letters to these companies requesting an "Opt-In" for single-use plastic cutlery & accessories so that all food delivery apps share the same default setting and reduce confusion within restaurants. 
(Video courtesy of Buzzfeed)
"The seemingly small act of skipping disposable cutlery can add up to a big impact when food delivery platforms, restaurants, and each one of us steps up. Shedd Aquarium is proud to support Habits of Waste and their #CutOutCutlery campaign to invite everyone to take action today to protect our shared ocean, lakes and rivers from plastic pollution."
—
Jaclyn Wegner, Director of Conservation Action at Shedd Aquarium in Chicago
Get your personalized posters
Are you in New York? Click here for easy steps for an Executive Order to help restaurants save money while protecting the planet. (

An

Emergency Executive Order would require restaurants, caterers, and food delivery systems within your State to refrain from including single-use utensils, napkins, condiments, straws, or other foodware accessories when preparing or packaging food to-go or for delivery.)
Thank you to our supporters!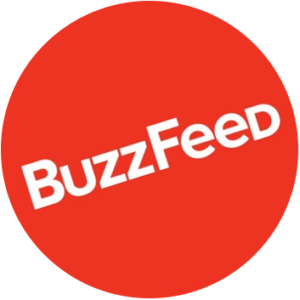 Huge thanks to Buzzfeed for creating this star studded video that leaves everyone wondering what they are actually talking about. Cast: Laura Dern, Adam Devine, Senator Ben Allen, Leah Thomas, Emma Rose Cohen, Diz Petit, Postmates.
HoW can you help this campaign?
Create a post to share with your followers on this issue. Tag us at @howchangers and use #howchanger -- we'll repost it.
Share On Social Media
Go Back To Campaigns Page